Posts for: April, 2019
By Capital Periodontal Associates, P.A.
April 16, 2019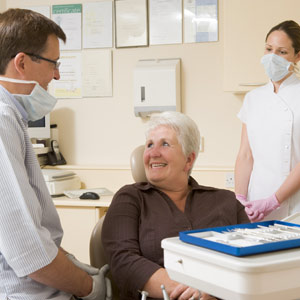 Implants are highly regarded by both dentists and patients for their versatility and durability. But it's their life-like appearance that "seals the deal" as the restoration of choice — not only mimicking an individual tooth, but emerging from the gum line and blending indistinguishably with other teeth in color and symmetry.
To achieve this result, we must consider a few factors beforehand, particularly the amount of bone available at the intended implant site. An implant requires a certain amount of bone to properly position it for the most natural crown appearance. The bone present around adjacent teeth can also affect your appearance: in the absence of adequate bone the papillae, triangular shaped gum tissue between teeth, may not regenerate properly between the implant and the natural teeth. This can leave a noticeable void, what dentists call "black hole disease."
Bone loss is a significant problem particularly after tooth loss. It's quite possible for you to lose a quarter of the bone's width in the first year after tooth loss. To avoid this, we often use bone grafting techniques immediately after extraction to lessen bone loss; if it's already occurred we may be able to use similar reconstructive techniques to rebuild and encourage renewed bone growth. In the end, though, if there remains a significant level of bone loss it may be necessary to consider another option for tooth replacement other than implants.
The thickness of your gum tissue, a genetic trait, can also have an impact on the implant's ultimate appearance. Thicker gum tissues are generally more resilient and easier to work with surgically. Thinner gum tissues are more susceptible to recession and tend to be more translucent, which could cause the underlying metal implant to be visible. Thus, working with thinner gum tissues requires a more delicate approach when trying to achieve a visually appealing result.
All these factors must be balanced, from implantation to final crown placement. But with careful planning and attention to detail throughout the process, many of these issues can be overcome to produce a satisfying result — a new and appealing smile.
If you would like more information on the aesthetics of dental implants, please contact us or schedule an appointment for a consultation. You can also learn more about this topic by reading the Dear Doctor magazine article "Matching Teeth & Implants."
By Capital Periodontal Associates, P.A.
April 06, 2019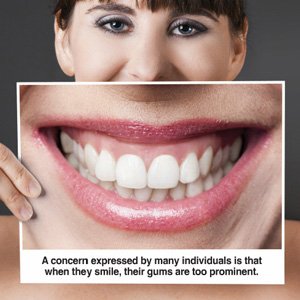 A beautiful smile is a balanced smile, especially in regard to your gums. A normal smile usually shows 4 mm or less of gum tissue along with about 10 mm of tooth length. But if your gums show more than that, your smile may seem too gummy. In terms of perceived balance, this could detract from your smile's attractiveness.
Fortunately, you don't have to live with a gummy smile—there are various ways to correct or minimize its effect. First, though, we'll need to determine the underlying cause before deciding on the best treatment. And, there are several possible causes, the obvious being too much gum tissue present. Teeth that appear shorter due to wear or incomplete eruption could also make the gums appear larger.
We may be able to correct these size problems by surgically removing and reshaping excess gum tissues and possibly the underlying bone to reveal more of the teeth. We can also bond composite resins or porcelain veneers to shorter teeth to make them appear larger.
But not all gummy smile problems pertain directly to the teeth and gums; instead, it could be your upper lip moves too far up as you smile (hypermobility). Or, your upper jaw may be too long for your face, which can also cause too much of the gums to show during smiling.
With upper lip hypermobility, we may be able to inhibit the lip muscles' movement temporarily with Botox injections that partially paralyze the muscles (the effect eventually wears off, so this treatment will need to be repeated). A periodontist, an oral surgeon, or a plastic surgeon could also permanently alter the upper lip movement through a surgical procedure. Surgery may also be necessary for an abnormally long upper jaw: orthognathic surgery re-positions the jaw to the skull, which can lessen the amount of gums showing.
If your smile is too gummy, we can transform it. But first, let's find out what the real cause is with a comprehensive dental examination. Once we know, we can better advise you on the best way to bring beautiful balance to your smile.
If you would like more information on improving a gummy smile, please contact us or schedule an appointment for a consultation. You can also learn more about this topic by reading the Dear Doctor magazine article "Gummy Smiles."