Posts for: May, 2019
By Capital Periodontal Associates, P.A.
May 16, 2019
After a long struggle with dental disease, you have finally lost the last of your remaining teeth.  Like over a quarter of Americans in their 60s and 70s, this unfortunate development can have a profound impact on your health and self-image.
While there are a number of advanced methods for replacing lost teeth, there's one tried and true option that's centuries old — the removable denture. It's the option millions of people have chosen to lessen the impact of missing teeth.
Fashioned properly, removable dentures restore the form and function you once had with your natural teeth. The prosthetic (false) teeth are precisely placed in an acrylic, gum-colored base that closely follows the contours of your gums. Because they're removable, they're fairly easy to clean and maintain.
They do have a disadvantage, though, and it's related to bone health after tooth loss. Like other living tissues, bone has a life cycle: as older cells die, new cells form to take their place. The forces your teeth generate when you chew stimulate new bone growth. But without teeth to provide this stimulation, new bone won't keep up the pace of replacement at a healthy rate. As a result you may gradually lose bone, as much as a quarter of its normal width within a year of losing a tooth.
Dentures don't transmit any stimulation to the gum and bone from chewing. Furthermore, the compressive forces transmitted to the gum and underlying bone tissue contributes to bone loss. As the bone continues to diminish, your denture fit becomes looser to the point you will eventually need them relined with new acrylic material or have a new set made.
There is another alternative when patients loose all of their teeth: an implant-supported removable denture. Dental implants can be used to keep the dentures more secure and can also slow or even halt bone loss where the implants are placed. In this case we strategically place a few implants to serve as supports for a removable denture. The denture has connection points that join up with the implants to hold it more securely in place. As few as two implants are needed in the lower jaw, while the upper jaw does better with three or four implants.
Losing all your teeth can be traumatic, but there are effective ways to overcome it. With new technology, the traditional restoration of removable dentures may be the vehicle for achieving that.
If you would like more information on restoring missing teeth with dentures, please contact us or schedule an appointment for a consultation. You can also learn more about this topic by reading the Dear Doctor magazine article "Removable Full Dentures."
By Capital Periodontal Associates, P.A.
May 06, 2019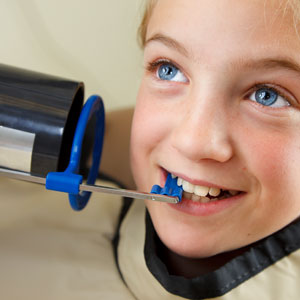 Modern dental care wouldn't be the same without x-rays. Since dentists began capturing x-ray images a century ago to detect beginning tooth decay, billions of teeth have been preserved.
"Catching it early" is the key to staying ahead of this aggressive bacterial infection. Once it breaks through the protective defenses of tooth enamel, it can advance toward the center of the tooth, the pulp, damaging dentin as it goes. While we can effectively stop it at this point with a root canal treatment, it's better for the tooth's long-term health to detect and treat any decay early on with a less-invasive filling or other treatment method.
X-ray imaging helps make that possible, revealing decay much easier than we can see with the unaided eye. And while we can often detect decay in front teeth by visual examination or by using very bright lighting, that's not as easy with the less accessible back teeth. For those teeth we use a special x-ray technique known as the bitewing.
The name comes from the small frame used to hold the film. It's held in place in the mouth by the patient biting down on small tabs or "wings" extending from the frame. The x-ray beam travels through the outer cheek and teeth to the film being held in the frame on the back side of the teeth. When exposed, we'll be able to view the interior of these back teeth: a set of four bitewings gives us a full view of all the upper and lower molars and pre-molars on each side of the jaws.
Like other forms of radiation energy, too much or too frequent exposures to x-rays can lead to serious health problems. But bitewing x-rays carry little risk to health. That's because they fit well with the ALARA principle, meaning "As Low As Reasonably Achievable," which helps guide our use of x-rays. Patients receive a fraction of the radiation exposure from routine bitewing x-rays than they receive annually from the natural environment.
Without bitewing x-rays and other diagnostic methods, the chances are high that tooth decay or other dental problems can go undetected in their early stages. Using this important tool can help us head off major damage before it occurs.
If you would like more information on the role of x-rays in dental care, please contact us or schedule an appointment for a consultation. You can also learn more about this topic by reading the Dear Doctor magazine article "Bitewing X-Rays: A Routine Part of Your Dental Exam."