Posts for tag: tooth decay
By Capital Periodontal Associates, P.A.
October 28, 2018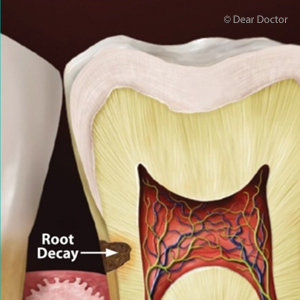 Tooth decay is a highly destructive dental disease, responsible along with periodontal (gum) disease for most adult tooth loss. And we become even more susceptible to it as we get older.
One form of decay that's especially prominent among senior adults is a root cavity. Similar to a cavity in the crown (visible tooth), this form instead occurs at or below the gum line in the roots. They happen mainly because the roots have become exposed due to gum recession, a common consequence of periodontal (gum) disease and/or brushing too hard.
Exposed roots are extremely vulnerable to disease because they don't have the benefit of protective enamel like the tooth crown, covered instead with a thin and less protective mineral-like material called cementum. Normally, that's not a problem because the gums that would normally cover them offer the bulk of the protection. But with the gums receded, the roots must depend on the less-effective cementum for protection against disease.
Although we treat root cavities in a similar way to those in the crown by removing decayed structure and then filling them, there's often an added difficulty in accessing them below the gum line. Because of its location we may need to surgically enter through the gums to reach the cavity. This can increase the effort and expense to treat them.
It's best then to prevent them if at all possible. This means practicing daily brushing and flossing to remove bacterial plaque, the thin, built-up biofilm on teeth most responsible for both tooth decay and gum disease. You should also visit your dentist at least twice a year for professional cleanings and advanced prevention methods like topical fluoride to strengthen any at-risk teeth.
You should also seek immediate treatment at the first sign of gum disease to help prevent gum recession. Even if it has occurred, treating the overall disease could help renew gum attachment. We may also need to support tissue regeneration with grafting surgery.
Root cavities are a serious matter that could lead to tooth loss. But by practicing prevention and getting prompt treatment for any dental disease, you can stop them from destroying your smile.
If you would like more information on diagnosing and treating root cavities, please contact us or schedule an appointment for a consultation. You can also learn more about this topic by reading the Dear Doctor magazine article "Root Cavities: Tooth Decay near the Gum Line Affects Many Older Adults."
By Capital Periodontal Associates, P.A.
November 03, 2017
"Less is more" is a truism for much of life. It's also an important feature of an emerging approach to treating tooth decay known as minimally invasive dentistry (MID).
MID updates another revolution in dental care that occurred in the early 1900s. Treating decay took a quantum leap thanks to techniques developed by Dr. G. V. Black, considered the father of modern dentistry. Dr. Black's approach (known as "extension for prevention") involved not only removing decayed tooth structure, but also adjacent areas deemed vulnerable to decay, which made them easier to clean. On the downside, though, it also created larger than normal fillings.
As the practice prevailed through much of the Twentieth Century another weakness became apparent—the approach could not guarantee a treated tooth would not experience decay again. This became the real impetus toward MID—to find more comprehensive ways to treat decay with as little impact on the tooth structure as possible.
These efforts received a real boost from emerging technology. This was especially true in diagnostics with the rise of new devices like intraoral cameras and techniques like laser fluorescence that can enable dentists to detect decay much earlier. It's now possible to catch the disease at an earlier stage before substantial damage to the tooth occurs.
MID has also led to new treatments that preserve more of the tooth structure. Traditional drilling is increasingly giving way to air abrasion, the use of a fine particle stream of aluminum oxide, glass beads or baking soda directed precisely at decayed structure and minimizing damage to healthy structure. We're also using new filling materials like composite resin for restorations after treatment that are strong yet still life-like and attractive.
We also can't forget the role of the twin daily hygiene practices brushing and flossing to remove bacterial plaque, the main source of dental disease. And regular dental cleanings and checkups round out the MID approach, helping to ensure that decay doesn't get too far. The end result of this revolutionary approach: your teeth can experience less impact from treatment and remain healthier and more attractive in the long-run.
If you would like more information on minimally invasive dental care, please contact us or schedule an appointment for a consultation. You can also learn more about this topic by reading the Dear Doctor magazine article "Minimally Invasive Dentistry: When Less Care is more."
By Capital Periodontal Associates, P.A.
August 27, 2017
Humanity has been waging war against tooth decay for millennia — with this relentless opponent often getting the better of us.
Over the last century, however, significant treatment advances have turned the tide of battle in our favor. Perhaps the greatest of these advancements is our deeper grasp of the disease process — new understandings that have altered our treatment strategy. Rather than wait for cavities to occur and then repair the damage, we now focus on stopping the damage from occurring in the first place.
Prevention starts by reducing factors that contribute to tooth decay. We can signify these detrimental factors with the acronym BAD:
Bad Bacteria. Millions of bacteria inhabit our mouths at any one time, but only a few strains produce the acid that causes decay. We want to reduce their population by removing dental plaque (where they feed and grow) through daily brushing and flossing, and, at a minimum, semi-annual office cleanings.
Absence of Saliva. This important fluid neutralizes acid and strengthens tooth enamel. Some people, however, suffer from reduced saliva flow. We want to find the cause (for example, a side effect of certain prescription drugs) and then improve saliva flow.
Dietary Habits. A diet heavy in sugar and acid (particularly sodas and soft drinks) gives bacteria a ready food source and increases the mouth's acidic level. Chronic high acid levels in particular are often too great for normal saliva flow to overcome and neutralize. Reducing the amount and frequency of these food items creates a healthier oral environment.
Reducing BAD factors is only half of our prevention focus. We also want to promote SAFE factors that enhance tooth health and strength: Sealants, especially for children, that shield tooth surfaces from decay; Antimicrobial rinses that target and rid the mouth of acid-producing bacteria and give healthy bacteria room to develop; Fluoride, a proven enamel-strengthening chemical available in dental products, many drinking water systems and as a topical application in dental offices; and an Effective diet that's rich in nutrients and low in sugar and acid as already mentioned.
Keeping the focus on reducing BAD factors and promoting SAFE factors will greatly increase your chances of personally winning the war against tooth decay.
If you would like more information on the prevention and treatment of tooth decay, please contact us or schedule an appointment for a consultation. You can also learn more about this topic by reading the Dear Doctor magazine article "Tooth Decay: How to Assess Your Risk."