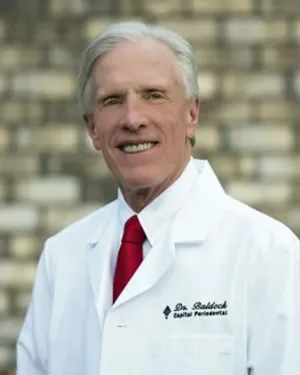 PERIODONTIST IN TALLAHASSEE, FL
Dr. Baldock has dedicated his professional career to serving and educating others about periodontology. His compassion, clinical expertise and use of cutting-edge technologies help ensure the best possible periodontal outcomes for his patients. He received his Doctorate in Dental Surgery from the Ohio State University and his Master of Science in Periodontics from the University of North Carolina.
Dr. Baldock is a Veteran of the United States Air Force, where he served as Captain and practiced general dentistry. He is a Courtesy Faculty Member at the University of Florida College of Dentistry and lectures to periodontal residents. Dr. Baldock is a past president of the Southern Academy of Periodontology, the Florida Association of Periodontists, and the Leon County Dental Association.
He was also a national trustee for the American Academy of Periodontology and has received numerous awards for his dedicated service. Dr. Baldock is also a member of the International Congress of Oral Implantologists, the American Dental Association, Florida Dental Association, Northwest District Dental Association and the Leon County Dental Association. He also provides dental health services to numerous charitable organizations in the Big Bend Area. He is married with three children.
The Ohio State University
Bachelor of Science in Biological Science
The Ohio State University
Doctor of Dental Surgery
University of North Carolina
Master of Science in Periodontics
University of North Carolina
Residency in Periodontics